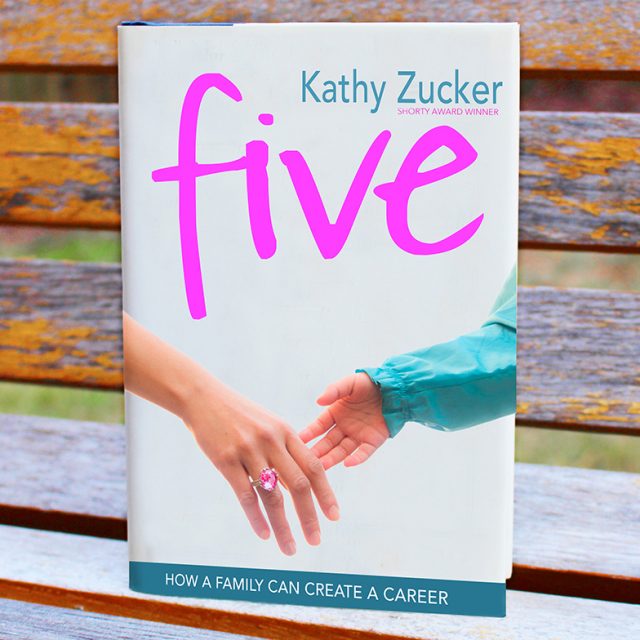 Career
Kathy Zucker offers inspiration for women who are wondering how they can have the best of both worlds – career and family.
Family
Leverage your experiences and family to create a whole new career.
Conversation
Taking risks. Speaking up. Sharing information. What do all of these things have in common? Conversation.
Strategy
Create a network of friends who have answers for all of your questions.
---

Mary Meluso, Public Relations Specialist
#FiveBook is a powerful reminder of how being open to new ideas, new people, and new challenges can greatly reward those daring enough to try.
---

Sree Sreenivasan, Chief Digital Officer, Metropolitan Museum of Art
Kathy Zucker (@kathyzucker – follow her!) has written a memoir unlike any other: It's short, it's inspirational and it's not wasteful navel-gazing. There's something in it for everyone.
---

Jennifer S. Wilkov, Founder, Speak Up Women Conference, #1 Best-Selling Author, Keynote Speaker, and Entrepreneurial Mentor
Speak up. Listen. Take the risk. Dig down deep and have the courage. Come in service to others. Lead. Know when to say no and do it. Easy for Kathy Zucker to say, but then again it's perfect coming from her! Five: How a Family Can Create a Career is a testament to Kathy's tenacity to live the life she wants and provide leadership in her various communities – personally, professionally and philanthropically. Real, raw, funny, transparent. I appreciate Kathy's heartfelt and genuine efforts to move humankind forward and to make this world a better place – from moment to moment – through her strong voice, heart-centered leadership, and commitment to love. A great read for everyone, whether you are a parent or not!
---

Iris Zimmerman, Olympic Athlete, Co-Owner, Rochester Fencing Club
It is so difficult to be a mom with ambitions beyond children. There has been no handbook on how to do it – until now. I appreciate the work Kathy Zucker is doing, and she continues to inspire me.